Three distinct types of hunts, close to home, and tailored to advanced shooters or beginners.
$1400-up to 2 hunters
$150 each for additional hunter (Group size may not exceed 4 people)
For passionate wingshooters looking for a challenging bird hunt, this is your traditional walk-up hunt. Picture a private group of friends walking the fields with pointing dogs and flushing dogs. This is typically a mixed bag of Quail and Chukar, depending on time of year and availability. Plan on a 2.5 hour hunt, give or take. Given our elevation change, this can be tailored to anyone's fitness level or mobility level with advance notice, but typically consists of four to six miles of walking in a hunt. Great for pairs or individuals to come sharpen their skills. If you're interested in a full day walk-up hunt, please contact us for pricing and availability.
Don't want to fly or drive 10 hours to another state? This is your prototypical Kansas style pheasant hunt with a line of hunters pushing through the field with dogs out front. But we don't have blockers getting all the shooting, so everyone has their chance. Pheasants and Chukars are located by pointing dogs and flushed in the field with flushing dogs. This type of hunt will typically cover 1-2 miles of walking and is great fun for medium to large groups.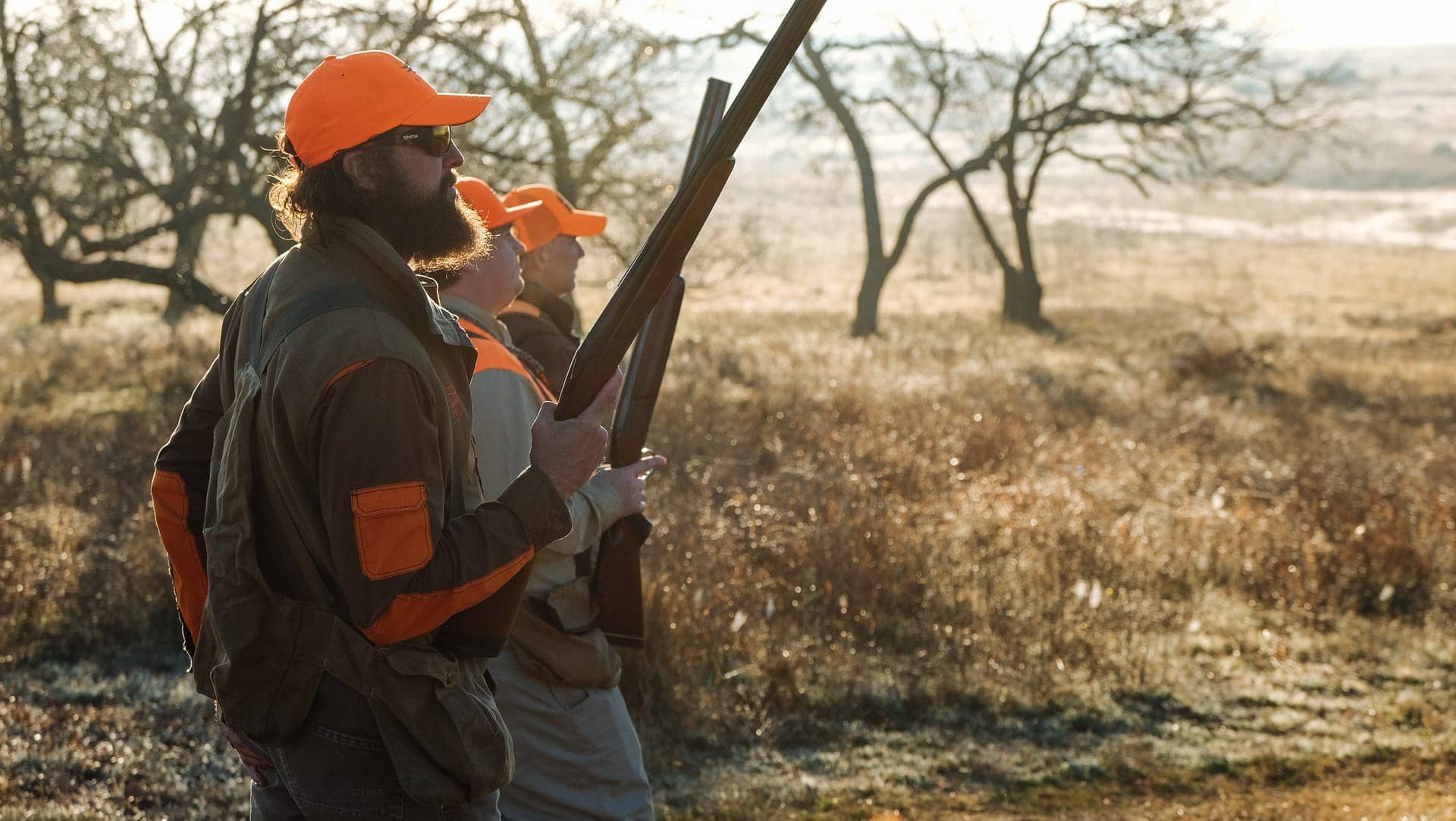 European Pheasant Tower Shoot
Price: Contact for group pricing
If you need to brush up for your trip to Scotland (or never plan on going), this shoot mimics the European pheasant drive.  All shooters are placed on a peg with varying locations and sight pictures, so there's not much walking, but plenty of shooting.  One peg may be completely open with sight of a pheasant coming in for 80 yards. On the other side of this spectrum, another peg may be surrounded by trees with only a 20 foot opening for some fast shooting, especially if you're not ready. Each peg has something unique within these two extremes. If you have a mix of skills in the group, this is a great way to keep everyone engaged. Great for large groups or a corporate outing. We can host up to 48 people at one time for this style of Pheasant shoot.
Premier Wingshooting has a Youth Scholarship. We give children and youth the opportunity to come hunt birds on the ranch as an opportunity to teach them the skills and responsibility of being a great hunter. Mostly we just think kids need a reason to fall in love with the outdoors, and that all starts by getting them out here! If you would like to donate to the scholarship fund or volunteer to assist on one of these hunts, please let us know. We are eager to share this opportunity with young people! If you're a Father or Mother who is desperately looking for a way to introduce your child to the outdoors, please email us so we can work something out.
Reservations are required for all hunts
Hunter must arrive with a valid Hunting License.
Because we're dedicated to delivering an excellent experience every time you visit, this cancellation policy is necessary. Our policies allow us to make the most of our guides limited availability and provide our guests with the most enjoyable experience. Let's be sure that we communicate and avoid unnecessary situations that result in extra expense for all of us.
Cancellations – Your booking is important to us at Premier Wingshooting. To provide a wide-open and authentic experience, we have a limited number of hunts allowed on the landscape. Most often, your party will not see anyone else hunting on our nearly 3000 acre property. As a result of this dedication to the hunting experience, cancellations and last-minute rescheduling have a significant impact on the financial health of our guide and ranch operations. We do not over-book or double book our hunted areas, so if you cancel your reservation, it is often difficult to fill the time reserved for you with another guest's activities.
Walk-up hunt- Reschedules must be in writing via mail or e-mail and you must receive written confirmation of agreement from Premier Wingshooting of receipt of your cancellation notice.
A request for a reschedule must be received more than 28 days prior to the Hunt Date to qualify as a rescheduled hunt. A November or December rescheduled hunt must fall within the same calendar year and is based upon availability. A January and February rescheduled hunt must be rescheduled by season's end, late February, and is based on availability. Please note, only Premier Wingshooting can cancel or reschedule a hunt based on weather or events outside of our control. Should PW cancel or approve a rescheduled hunt, the party will be given a coupon code and must rebook using the coupon code through the website within 24 hours of an approved reschedule and is based on availability. Should there be no availability, a partial refund may be applicable at the sole discretion of Premier Wingshooting.
Due to the availability of our guide and our significant hard cost to provide a world class hunting experience, we do not refund canceled hunt or a reschedule request made within the 28 days of a scheduled hunt.
For large event hunts, Pheasant Shoots and Line Hunts, a deposit of 50% must be made to book and the balance is due 30 days prior to the event date. Due to hard costs of these exclusive events, there will be no refunds or rescheduled events.
Premier Wingshooting, LLC reserves the right-to-cancel, postpone, or substitute an alternate activity if weather conditions prevent the delivery of the specific services reserved. Appropriate adjustments will be made to clients' charges.